WHAT DOES AN ON-THE-DAY WEDDING COORDINATOR DO?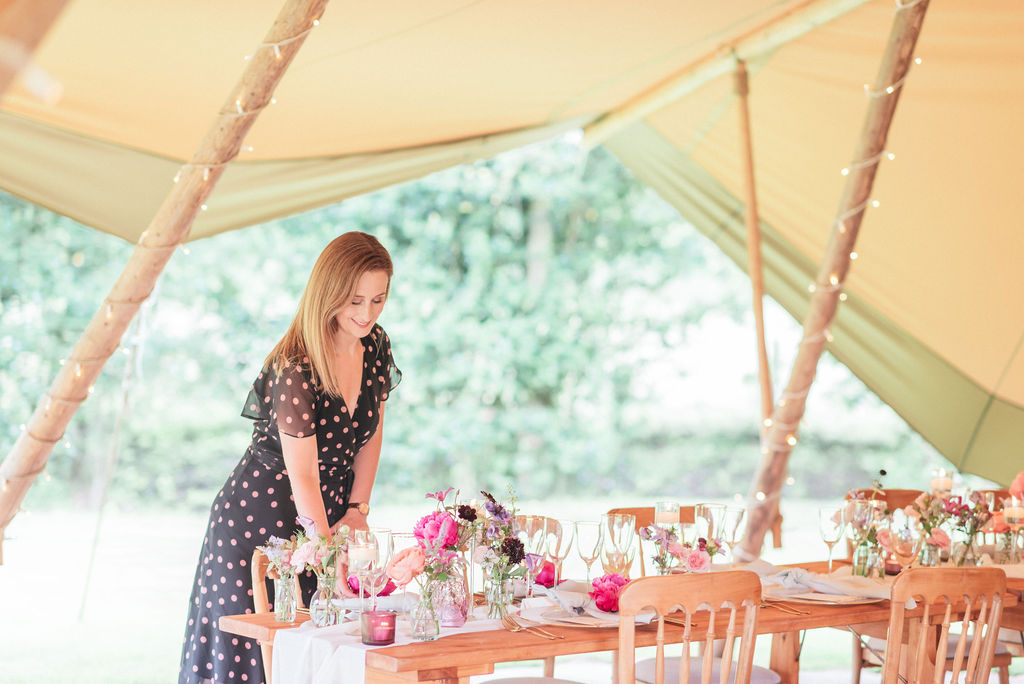 If you're enjoying the planning of your wedding but want to a right-hand woman to ensure all your hard work comes to fruition, a day-of wedding coordinator may be the best option. Read on to find out exactly what an on-the-day coordinator does and how to find the right one for you.
WHY ON-THE-DAY WEDDING COORDINATION IS A MYTH
You'll often see planners with packages titled 'on-the-day coordination', but really there is no such thing. You'll notice I call it 'wedding day management'. A planner can't simply arrive on the morning of your wedding and instinctively know what is meant to happen. Instead, your planner is likely to start working with you about 4 to 6 weeks before your wedding. From this point forward, they become the main point of contact for your suppliers, fielding their questions and relieving you from this stress. Depending on the complexity of the wedding, it will take your coordinator approximately 20 hours of preparation ahead of your big day. If I've not previously worked at your venue I also always do a site visit as I find it essential in order to spot any potential issues and explain things to suppliers.
WHY WOULD YOU NEED A DAY-OF COORDINATOR?
It's all about reducing your wedding stress. If things get a little stressful in the last few weeks or if something on the day doesn't quite go to plan you'll have someone to support you and rectify it. After all, it shouldn't be on your mum or bridesmaids shoulders to manage the day, they should be able to relax and enjoy themselves too. Plus, an on-the-day coordinator will have experience of how to manage challenges and will tend to take care of things before you or your guests even know there was an issue. 
WHAT DOES AN ON-THE-DAY COORDINATOR ACTUALLY DO?
Your planner will coordinate all the logisitics of your day. They will usually do a site visit and then review all your contracts to ensure they know what the suppliers are expecting/responsible for and to spot any potential issues. They'll introduce themselves to the suppliers and become their main point of contact, ensuring they have all the information they need, checking their arrival times etc. The planner will also produce a final, more detailed, on the day schedule.
On the day your coordinator will usually be the first person on site and the last to leave. This can mean 15+ hours for the planner plus at least one assistant. The number of assistants depends on the size/complexity of the wedding, but for a single venue with up to about 150 guests just the one assistant will usually suffice.
The planner ensures the venue is set up as planned, manages the suppliers and ensures the day runs to time. Couples are often concerned about guests not knowing what's happening and missing important aspects such as photographs. Your coordinator will circulate amongst your guests making sure they are all in the right place at the right time. The rapport I build with my couple's families and friends is often one of my favourite aspects of my job – everyone is so happy and friendly that it's always such a pleasure to deal with them.
WHAT DOESN'T AN ON-THE-DAY WEDDING COORDINATOR DO?
By the time the planner starts work you'll be expected to have all your suppliers booked and briefed. If you require additional suppliers to be sourced the planner may charge you extra. It's often the case that your planner can also be used for advice prior to their official start date. If you have something particularly challenging you most planners are happy to give quick tips, or for more assistance you can pay for some hours of consultancy.
The only other note of caution is that, although most planners are willing to do whatever it takes to ensure you have your dream day, you shouldn't plan to use your coordinator to save costs on other suppliers. You coordinator is there to manage the running of your day and shouldn't, for example, be relied upon to stand in for catering teams short on staff.
HOW SHOULD YOU PICK YOUR DAY-OFF COORDINATOR?
I would suggest choosing your planner based on a couple of aspects. Firstly, choose a planner who you have a good rapport with during your initial consultation. You need someone you trust will manage things in a way that will match your expectations. Your planner will be with you/your guests for your whole day so it's also important that you actually like them.
Secondly, for on-the-day coordination you really need a planner who is strong on logistics, rather than creative/design which is more beneficial to full planning clients. This is when the number of years' experience a planner has comes into play. With years, comes experience of having managed a whole host of different challenges, meaning they will be able to rectify issues. I've been managing events for 20 years and have had to deal with all sorts!
A FINAL NOTE
I really believe that most couples can see huge benefits from hiring an on-the-day wedding coordinator. Both your pre-wedding peace of mind and the running of your day will be infinitely improved through having a coordinator.
I should also mention, some couples plan to forgo a day-of coordinator because their reception venue package includes a coordinator. Although the two job titles are similar they are very different roles. I've written another blog post about the differences which you can read here.
If you would like to explore the possibility of having an on-the-day wedding coordinator, please get in touch!