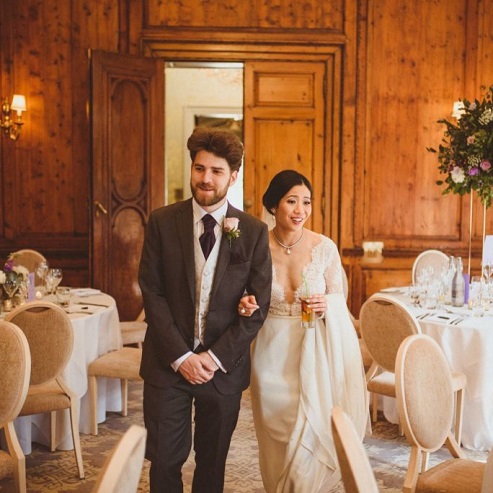 LUXURIOUSLY ELEGANT WEDDINGS IN LONDON AND THE UK
Caroline Siân and her team work collaboratively with you to transform your vision into a reality, so that it can be experienced in an everlasting way. Offering a selection of services that will be tailored to you, rest assured every element of your occasion will be taken care of. From sourcing coveted suppliers, scouting out highly desirable venues, managing timelines or organising contracts, the team at Caroline Siân Weddings & Events will be on hand throughout the wedding planning journey.
You will have the rare opportunity to tap into Caroline's extensive expertise and calm demeanour, with any eventualities taken care of efficiently and discreetly. It is perhaps the exclusivity, the quality and the originality that is the epitome of 'luxury' behind Caroline Siân Weddings & Events. From the very moment you enquire, Caroline will become your trusted collaborator, delivering the highest possible standard of service. And when the date of your occasion arrives, the team will be there on hand, ready to execute the most elegant and timeless celebration you could even begin to imagine.
Expect  an  unparalleled  guest  experience,  exquisite  design  &  an atmosphere  that  will  make  your  loved  ones  wish  the  party  would  never  end
PHASE ONE – BUILDING THE FOUNDATIONS & VIP SUPPLIERS
Phase One of the wedding planning process is designed around the initial foundations of your event and selecting your VIP suppliers. As part of my wedding planning service, the phase includes:
Wedding Budget – Caroline will produce a detailed wedding budget that has been designed according to your priorities, so that you have the day you've always wanted, while sticking to the amount you want to spend
Schedule – A month-by-month planning schedule will direct monthly check-ins with Caroline
Order of the Day – Caroline will produce a draft Order of the Day so that you have an initial idea of event timelines
Design Board – A collaborative process between you both and Caroline, the design board will deliver a cohesive design concept that is within your budget and flows effortlessly with your venue. Design boards tend to evolve throughout the process and can be used while briefing suppliers
VIP Suppliers ­– Caroline works with some of the UK's highest-regarded suppliers and will book those who are high on your priority list. She will provide couples with up to three suppliers for each category, providing pros and cons of each vendor.
 PHASE TWO – THE AESTHETICS SUPPLIERS
Phase Two of the wedding planning process involves ongoing management of your budget, schedule, and Order of the Day, alleviating various (time-consuming) elements of potential stress that event planning can cause. Any remaining suppliers will also be booked within this phase, focusing on suppliers who have an impact on the aesthetic of your event.
 PHASE THREE – THE DETAILS
The third phase is about tying up the loose ends of the planning process. Caroline and her team will seamlessly guide you through the nitty gritty details and decisions that need to be made, while updating your suppliers accurately. As with the other phases, you will be provided with ongoing budget management, schedule updates and a review of the Order of the Day. The result is a personal, meaningful and exquisitely planned occasion.
 PHASE FOUR – FINAL PREPARATIONS & THE WEDDING DAY
The fourth and final phase offers complete management of your suppliers' questions and last-minute briefings, so that you can relax and enjoy the lead-up to your wedding day. Caroline and her team will ensure their emergency wedding kit is fully stocked, before attending your big day and ensuring it unfolds flawlessly. 
To ensure complete commitment and professionalism, Caroline works with a limited number of couples per year. Please do get in touch as early as possible to secure her services and to avoid disappointment. Investment is between 12-15% of your total budget while fixed fees can be arranged for larger budgets.