6 TIPS FOR INVOLVING PETS AT YOUR WEDDING
Anyone who follows my social media will know I'm obsessed with animals. From my beautiful pup, Bella, through to safaris being my favourite holidays, I just adore animals. So, when my couples tell me they'd like to incorporate their pets at their wedding I couldn't be happier. Before you plan to have your pet or any animal at your wedding there are a few things to consider.
VENUE RULES
More and more venues are becoming flexible on their rules with regards to animals. If having your pets at your wedding is important to you ask the venue coordinator at the very first meeting before you commit it. Also check if they have any rules about areas they can/can't go and any restrictions on which parts of the day they're allowed to attend.
PETS AT YOUR WEDDING CEREMONY
Some of my couples want to ensure a quiet, bark-free ceremony where all attention is on them. These couples usually opt to have pet-free ceremonies. Either a guest will look after the pets during this time or my assistant usually jumps at the chance!
It's also worth noting, many registrars won't allow animals to be present during the ceremony. If having them involved is important to you I'd recommend having a celebrant-led ceremony. Alternatively, many churches will allow dogs – but do check with them first.
The other end of the scale is to really involve your animal friend in your ceremony. I've had plenty of doggy ring bearers, but, I've also had an owl do the duties. If you'd like to do this I suggest you have the animal deliver a faux ring pouch instead of the real rings. Whoever is receiving the rings from the ring bearer (the celebrant, best man or even the couple themselves) has the real rings in a matching pouch and subtly swaps them on delivery. If your animal then decides not to do quite what is expected of them, you still have the rings. After all, you wouldn't want a bird of prey flying off and sitting up a tree for an hour with them!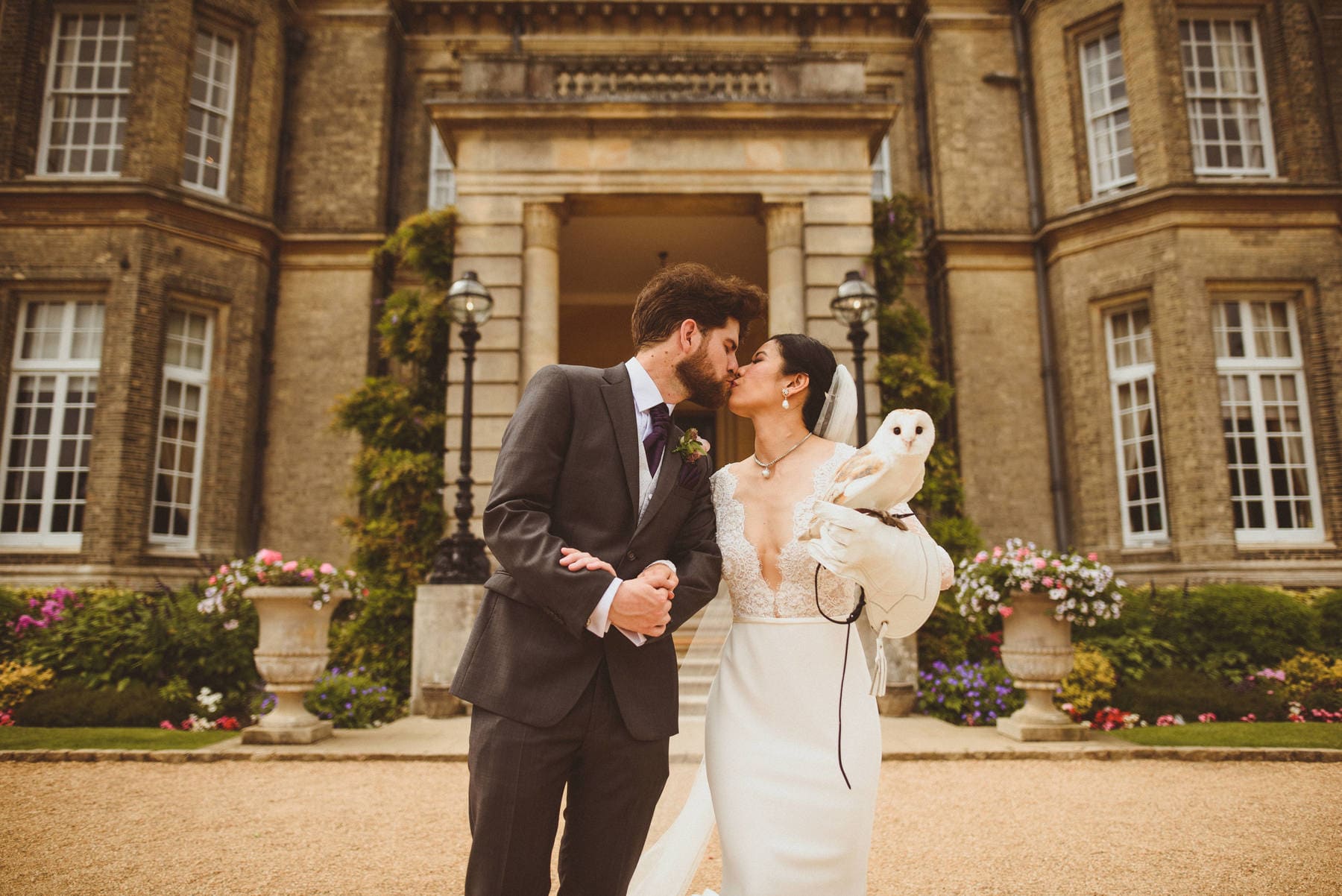 DRESS FOR THE OCCASION
Depending on the comfort of your pet you can always dress them for the occasion. I've had dogs in suits to match the groom or more traditional flower collars which your florist can help you with.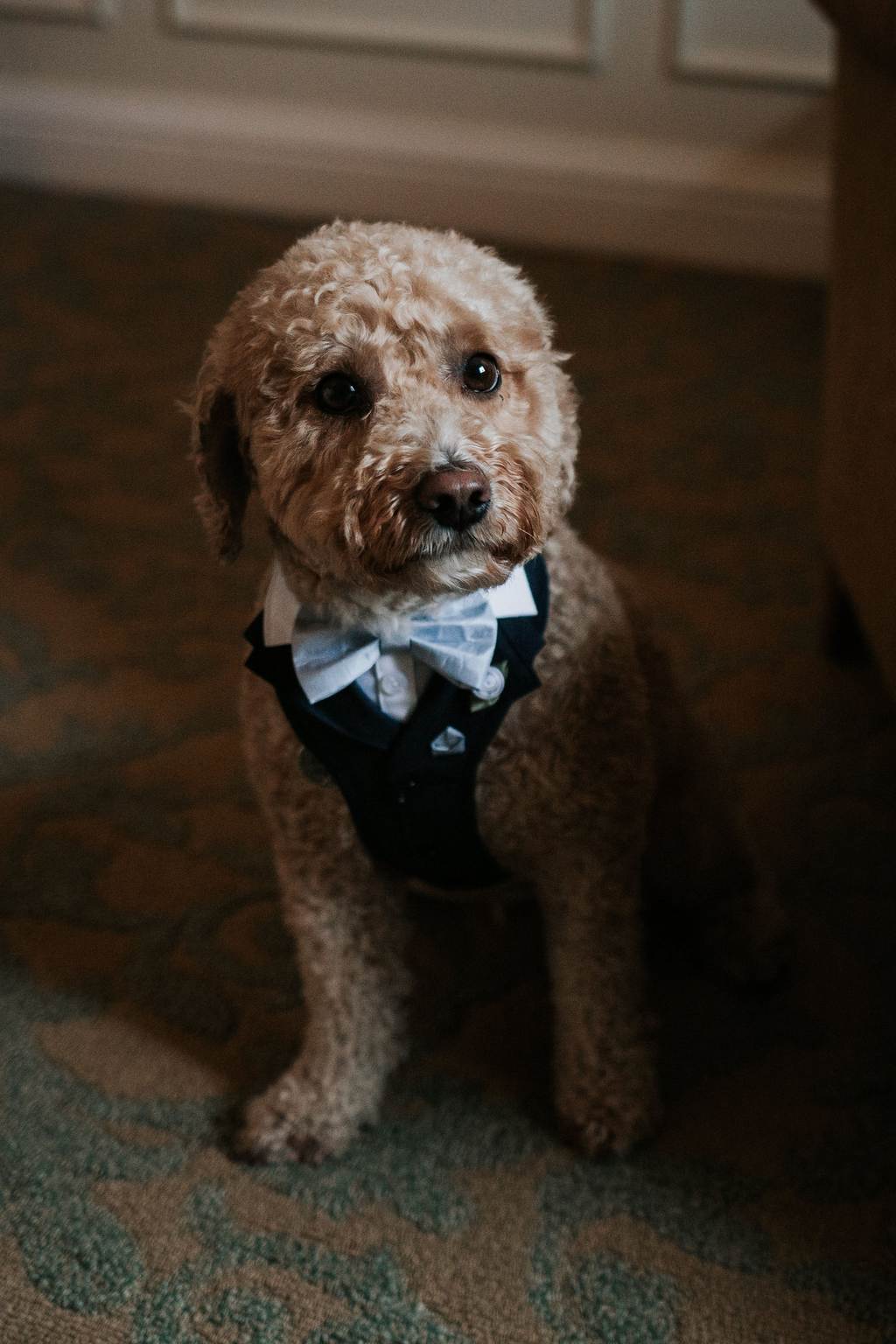 HIRING ANIMAL APPEARANCES
Most of this blog is aimed towards having your pets at your wedding, however, some couples want to hire in an animal appearance. I had a groom who had used the most adorable miniature pigmy owl during his proposal so it was important to him that Otis the owl attended the wedding as well. They were big falconry fans so they also wanted a falconry display to entertain guests during the drinks reception.
There's a few points to consider when hiring animals.
Firstly, check the supplier is insured as your venue may want to see their insurance documents. I would advise against using any supplier who isn't insured. You supplier is also likely to complete a risk assessment which is another good sign of their professionalism.
Make sure you ask the supplier for their requirements. They may need parking for a large trailer, shade provided for the animals or any number of other practicalities provided for.
It's worth asking them about any guidelines they may have in terms of interaction with guests, especially if children are going to be present, and how to get the best from any photography.
And finally, what is the plan for bad weather? Many venues will allow animals in the grounds and at outdoor ceremonies but not indoors.
ANIMAL WELFARE FOR PETS AT YOUR WEDDING
Obviously, the most important consideration in having your pets at your wedding is that the animal has to be comfortable and confident enough to attend your wedding. They'll be in unfamiliar surroundings with crowds, noise and potentially some rather merry people. Will they be happy in this environment?  I know that my Bella would find the large crowd at a wedding too much to handle so I'd not put her in that position.
If your dog or other pet is happy in such situations then make sure you plan fully for their attendance. Maybe bring along a bed if your dog likes to retire away to their own safe space and ensure they have water accessible.
Finally appoint a responsible wedding guest to look after your pet as they'll need toilet breaks, feeding and, if it all gets a bit too much, they might need taking for a walk or taking home. If in any doubt then it might be best to plan for them to only attend part of the day, may be just a short time during the drinks reception to have some beautiful photographs with you.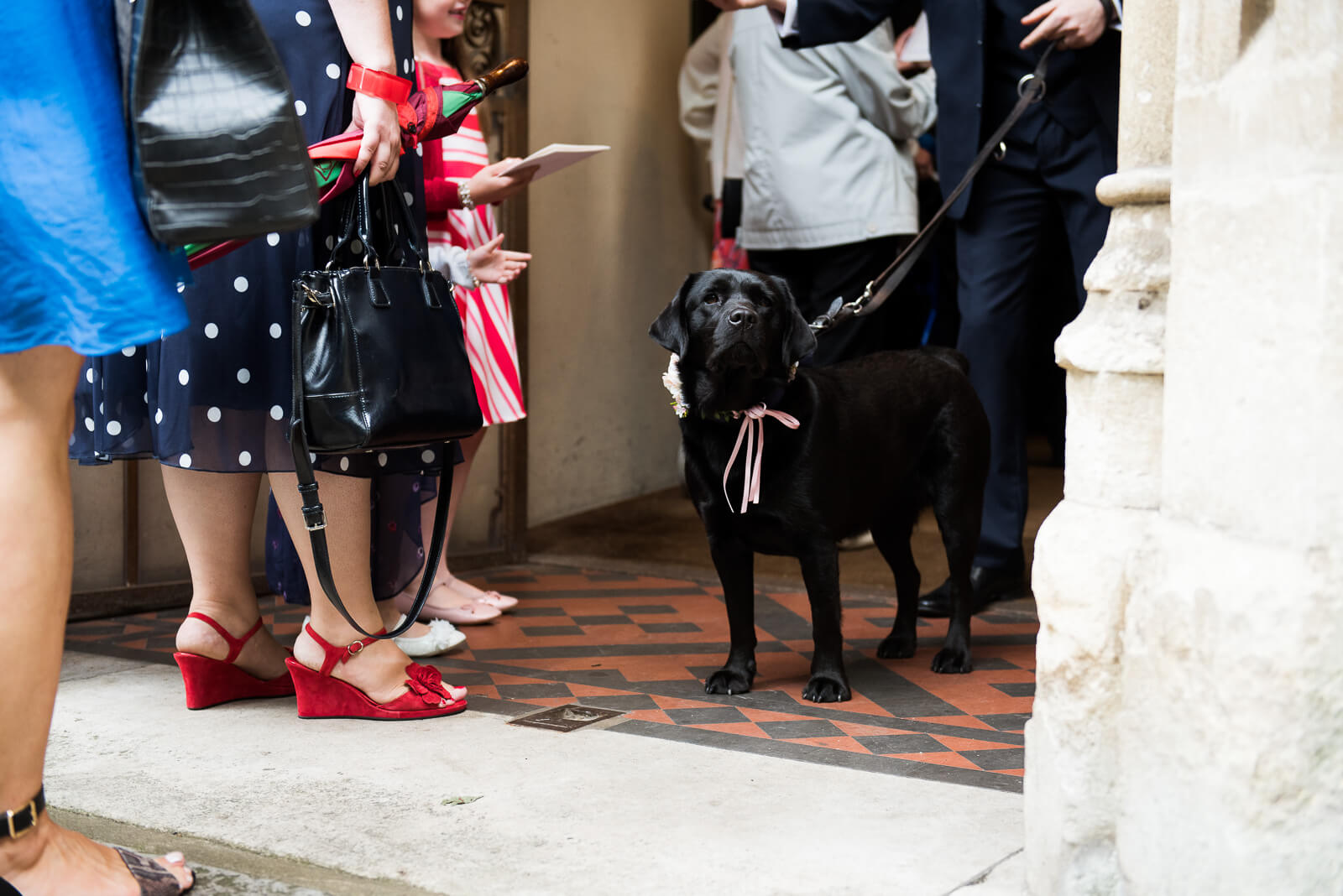 I hope you've enjoyed this article and some of the photographs. If you'd like to incorporate your pet or other animals in your wedding I'd love to hear from you so please get in touch.
Images by: Matt Penberthy, Kate Gray and Fiona Kelly.
I'm an award-winning London and Hampshire-based wedding and event planner with more than 20 years of events experience to my name. With a passion for luxurious, stylish weddings and events, I love dreaming up exciting ways to bring ideas to life - from city chic London weddings and idyllic country house venues, to large scale celebrations bringing together guests from around the world. When the out of office is on, you'll usually find me off on an adventure to a far flung destination or recharging with friends over cake and bubbly.