DELIGHTED TO HAVE BEEN ACCEPTED BY THE UK ALLIANCE OF WEDDING PLANNERS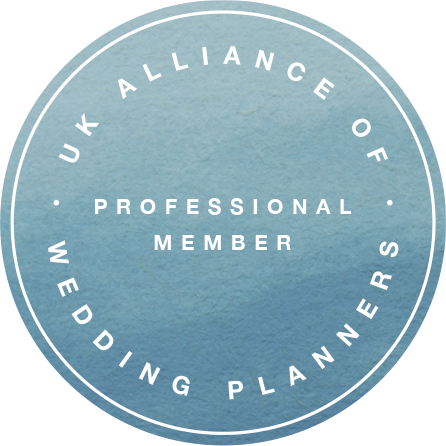 In January I was delighted to be accepted as a member of 
The UK Alliance of Wedding Planners
, a body set up to promote professionalism in wedding planning. The following is a blog post featured on the 
UKAWP website
 as part of my introduction to the community. Enjoy learning a little more about my backstory and discover my embarrassing guilty secret…
To round off the week we would like to introduce one of our newer Members, Caroline, who runs Caroline Sian Weddings & Events and has a wealth of events management experience. Over to you Caroline….
HOW DID IT ALL START?
My career started at the age of 20 when I was on my placement year from my business studies degree. All of a sudden I was responsible for graduation photography events. I packed up a van, drove to Aberystwyth University and found myself in an empty hall with 7 professional photographers, 20 temp staff and a few thousand students and their families about to turn up at my door. The buzz of the set up, working with a team who were all pulling together for the same objective and dealing with students and their families who were celebrating their special days made me realise how much I love events. That was over 16 years ago.
My career developed until I was leading corporate event management teams working in the UK, mainland Europe and the USA. After many years, I wanted to get back to working with individual clients who value their special days for the emotions and memories they create, rather than with corporate sponsors. Plus, I really wanted to work for myself. Setting up Caroline Siân Weddings & Events was always in the back of my mind, I'm just delighted to have been able to realise that dream.
DO YOU HAVE A FAVOURITE VENUE?
I have so many! I love Grosvenor House Hotel on Park Lane for the looks on guests faces when they arrive and look over the balcony to see a room of such scale. It's one of the largest 5 star ballrooms in Europe. The scale also brings its own unique creative challenges.
Additionally, some of the venues I've worked at in Florida were amazing for me as a Brit, after all it's not every day you can arrange a yacht party on the open decks and know it's not going to rain!
And of course, I would have to say Great Fosters in Surrey, after all, that cute little orangery is the venue I chose for my own big day.
HOW WOULD CLIENTS DESCRIBE YOU?
Friendly and creative but I'm also quite demanding when it comes to ensuring the highest standards are delivered. I was once flattered to be described as serene at an event.
I believe that authenticity is the most important characteristic I can bring as a planner, to ensure clients trust me and vendors enjoy working with me.
HOW DO YOU UNWIND?
I'm a gym bunny. I love pounding away at a set of boxing pads or exhausting myself at my local boot camp. I look after a dog a couple of days a week which I find hugely relaxing. Otherwise I'm no happier than when sharing an indulgent champagne afternoon tea with family/friends.
WHAT THEMES ARE YOU WORKING ON FOR 2017/18?
I'm currently in the process of designing a styled shoot which is going to have beautifully fresh, zingy greenery (after all it is pantone's colour of the year), combined with plenty of minimalist Perspex.
WHAT TRENDS ARE YOU SEEING?
The bright, shiny copper/rose golds will fade away and instead our metallic lovers will move towards burnished metals. In terms of colours, I can see that jewel colours are coming back in.
WHAT IS YOUR SIGNATURE DISH?
If you had tried my cooking you'd know how funny this question is! I say leave cooking to the professionals, failing that I'm lucky my husband is pretty handy in the kitchen.
I believe for the most productive life you should put 80% of your efforts into developing what you are already good at and only 20% into improving your weaknesses. At least, that's what I always say when my husband asks if it's my turn to cook!
WHOSE CELEBRITY WEDDING (DEAD OR ALIVE) WOULD YOU LOVE TO DESIGN?
I would have loved to design the 2005 wedding of Dita von Teese and Marilyn Manson. That might sound a strange choice, I'm certainly not a goth and don't particularly specialize in this type of design. However, if I were to plan with a celebrity sized budget, I'd want to make the most of it with a couple who would really push the creativity of their wedding and inject their personalities into it. Dita has such a strong sense of style and worked with designers including John Galliano, Dior, YSL, Vivienne Westwood and Moschino on her dresses. It would be amazing to experience such creative greats.
IS THE JOB AS GLAMOROUS AS YOU THOUGHT?
See question no. 1! I started my events career loading vans and I don't think I've stopped loading vans in the last 16 years. Enough said really. The trick is to be able to turn yourself around and look glamourous by the time guests arrive.
WHAT IS YOUR VICE?
Prosecco, cake and Justin Bieber (I shouldn't admit to that should I?!) ……erm, probably not Caroline but now we know, we're sure you'll never be allowed to forget sharing x
If you've enjoyed this post and would like to discuss how a wedding planner can help you with your celebration, please get in touch.