TIPS FOR PLANNING A GARDEN WEDDING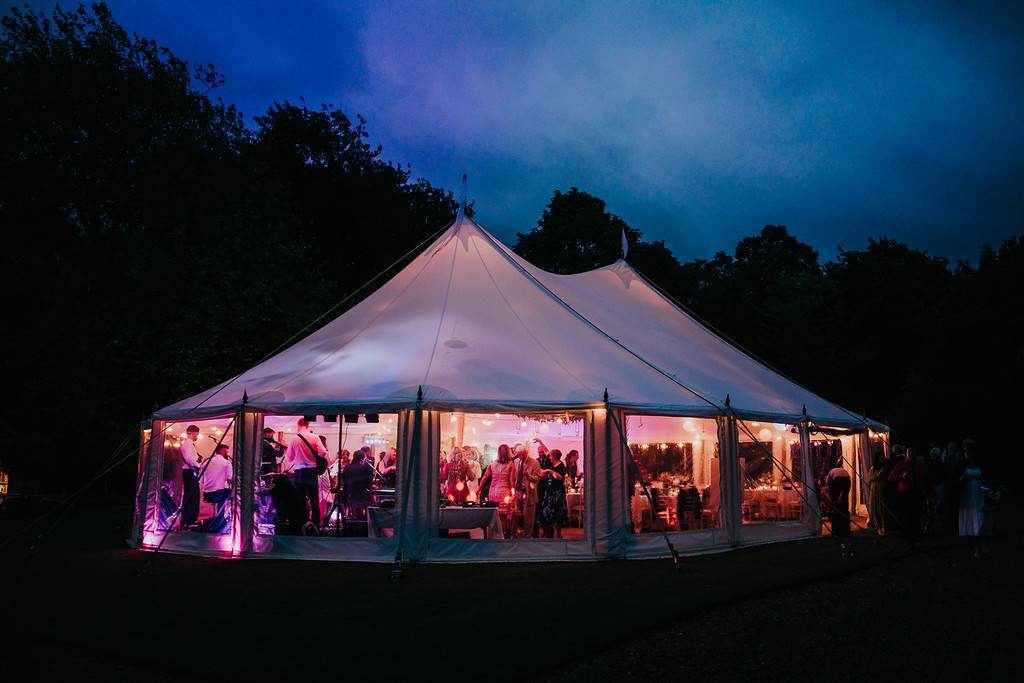 Some of my couples, or their parents, are lucky enough to own properties with large gardens where they can host their weddings. Often this provides a beautiful and meaningful location, but they can be much more challenging to arrange. To help you on your way, I've outlined a few tips for planning your garden wedding.
26% of UK couples now hire a wedding planner, but this number sky rockets amongst those planning a marquee or dry hire venue wedding as the logistics involved can be much more complex. If you consider the average wedding takes 250 hours to plan, imagine how many more hours will be spent arranging all the extra elements that a garden wedding involves. I hope this blog helps outline some of the most important aspects.
COST
Don't expect a wedding at home to be cheaper than at a venue, this just isn't true. After all, not only do you have to build a temporary venue, usually in the form of a marquee, but you'll also have to hire staff and all equipment, some of which I've detailed below.
GUEST NUMBERS
It's so important that you stay practical when planning your wedding at home. Consider the space you have available and what this means for the number of guests you can invite. A marquee company will be able to calculate the number of guests your garden can accommodate but also consider aspects such as where all your guests will park. You need to plan for the other spaces you'll need such as a catering tent and somewhere for suppliers to go, for example, your band will want a changing room and somewhere to relax/eat between sets, as will your photographer/videographer and wedding planner.
MARQUEES AND STYLING
Frame, tipi, clearspan, Chinese hats, sperry, stretch, traditional… there's a huge choice of different marquee options these days. The type of marquee you choose will have an impact on the style of your day but will also affect the capacity of your garden and remember, just because you're having a garden wedding doesn't mean you have to go down the rustic/traditional style! Using the right tent structure you can just as easily achieve modern or glamorous looks.
WEATHER
Good old mother nature can deliver all sorts on your wedding day so you need to be prepared. For any wedding you should plan for rain. Ensure you have a large bar space inside the marquee which you can use for your drinks reception if it rains. Likewise, you need to consider the plan in case of a heat wave. You might need to hire in air conditioning units, after all, you wouldn't want your cake or dance floor to melt (both have been known!) and don't forget sunscreen for your guests. If it's really cold you can hire heaters, fire pits and shawls for the guests or how about a hot chocolate bar.
CATERING
With marquee weddings you rely very heavily on your caterer and as such this is one area I suggest you get a very experienced supplier. I always look for caterers who have a good team approach as marquees are always a case of "all hands to deck" to make them work seamlessly. An experienced caterer will also provide serving staff and ensure a thorough clean-up. Plus, if you choose not to use a wedding planner, your caterer may be able to offer advice on hire quantities on items such as tables, chairs, glasses, fridges for alcohol, ashtrays etc.
My advice would also be to use your catering team to provide your evening bar, even if they aren't providing the alcohol. This will cut down on issues such as glass hire and rubbish disposal and ensures you have staff onsite for the entirety of your wedding.
BASIC AMENITIES
This is one of the most significant areas that I find couples forget about until the last minute and they often fail to budget accordingly. It's the boring aspects that really add up in terms of cost. You'll need to consider power in the form of hiring a generator and then you'll need to think about the distribution of the electricity in terms of where plug sockets are required. It's always worth checking with your suppliers to ask how many sockets they'll need and how much electricity they'll be pulling, only then can you ensure you hire a powerful enough generator. Some couples also like a back-up generator or a member of staff on stand-by just in case of issues.
You'll also need to hire toilets. I can guarantee you the one or two toilets in your family house will not be enough for 100+ guests! Toilets don't have to be like the festival portaloos anymore, you can hire luxury trailers and decorate with flowers.
The two other aspects are water and rubbish disposal. You'll have to check with your caterer if they need access to fresh water and if this can be barrelled or needs to be piped to the catering tent. Rubbish disposal is also something to be checked with your caterer.
LIGHTING
Lighting makes a huge difference to the feel of a marquee. With marquee weddings you also need to think about practical lighting for routes in/out of the marquee and garden, to the toilets and lighting of the catering tent.
SET UP
You've planned it all, but the days leading up to your wedding are often when couple/parents get the most stressed. Please don't plan to be setting up the marquee or arranging flowers on the morning of your wedding. I can guarantee you won't have time and it'll stress you out! Get professionals in or ensure you delegate jobs to responsible and reliable friends who you know will follow your instructions.
Also, consider the delivery and set up times of all your suppliers, especially the Band or DJ. For example, you'll need your band to set up and sound check before your guests arrive. You don't want them loading their equipment into the marquee during the speeches!
INSURANCE
All couples should get wedding insurance no matter the venue type, however, you'll need more comprehensive insurance for a wedding at home. You should also check the situation with your home insurance provider plus check all you suppliers have their own insurance.
FINAL NOTES
And finally, please give some thought to the home owners. I've experienced some mums and dads getting very stressed about getting the garden and house ready. Consider getting a gardener for a few months before your wedding and possibly even a cleaner a few days before to ensure the house is ready for guests. The home-owner will most definitely thank you! And remember to either invite the neighbours or at the very least warn them!
If you've enjoyed this post and think you might benefit from working with a wedding planner please do get in touch.
I'm an award-winning London and Hampshire-based wedding and event planner with more than 20 years of events experience to my name. With a passion for luxurious, stylish weddings and events, I love dreaming up exciting ways to bring ideas to life - from city chic London weddings and idyllic country house venues, to large scale celebrations bringing together guests from around the world. When the out of office is on, you'll usually find me off on an adventure to a far flung destination or recharging with friends over cake and bubbly.