PINTEREST: WEDDING PLANNING FRIEND OR FOE?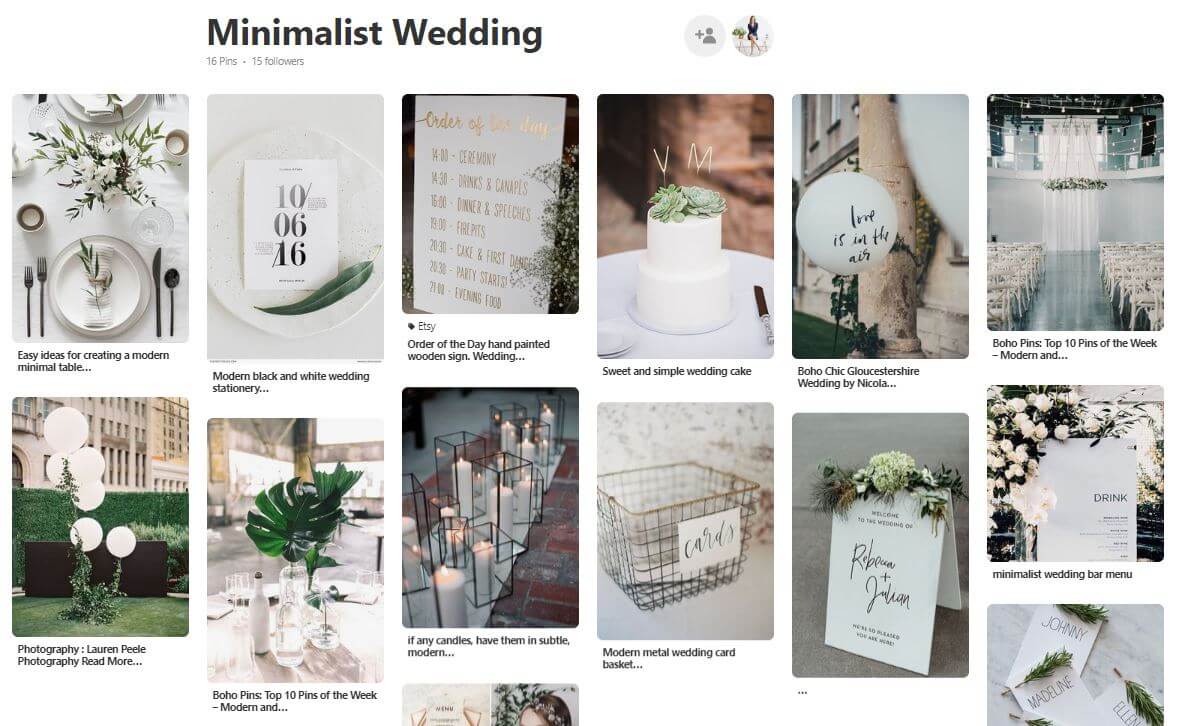 Pinterest, it's an incredible tool for wedding planning, great inspiration and a source of dreamy fantasy images.  Many of my couples will come with a Pinterest board in place, or at some point one will often materialise. For a wedding planner, or a bride, at first glance, Pinterest seems great! However, it's just one tool in your wedding planning tool box. In today's blog post I outline some of its pros and cons. Essentially, it all comes down to understanding the difference between replication v inspiration and using it accordingly.
USE YOUR PINTEREST BOARD AS INSPIRATION TO CREATE A WEDDING PERSONAL TO YOU
Your wedding day is an amazing opportunity to have a day that reflects you and share your loves with your friends and family. This will always trump producing a cookie cutter wedding that is purely based on the latest wedding trend. Trends are great for inspiration but don't incorporate them if they aren't a true reflection of you. Sometimes couples don't know about more unique options, because they aren't on Pinterest. Talk to your planner, we might just know of something that will be perfect that hasn't hit the top of the Pinterest boards yet.
One of my most memorable weddings was that of Stacey and Alastair. Stacey used Pinterest to help design her wedding but she was also wanted a day that reflected their slightly wacky sense of humour. They had a massive light up sign above their top table and, later, the dance floor, which said 'REGRETS'. Now, although the idea of a light-up sign may have come from Pinterest, you can bet your bottom dollar the wording wasn't! You can ready more about their day here.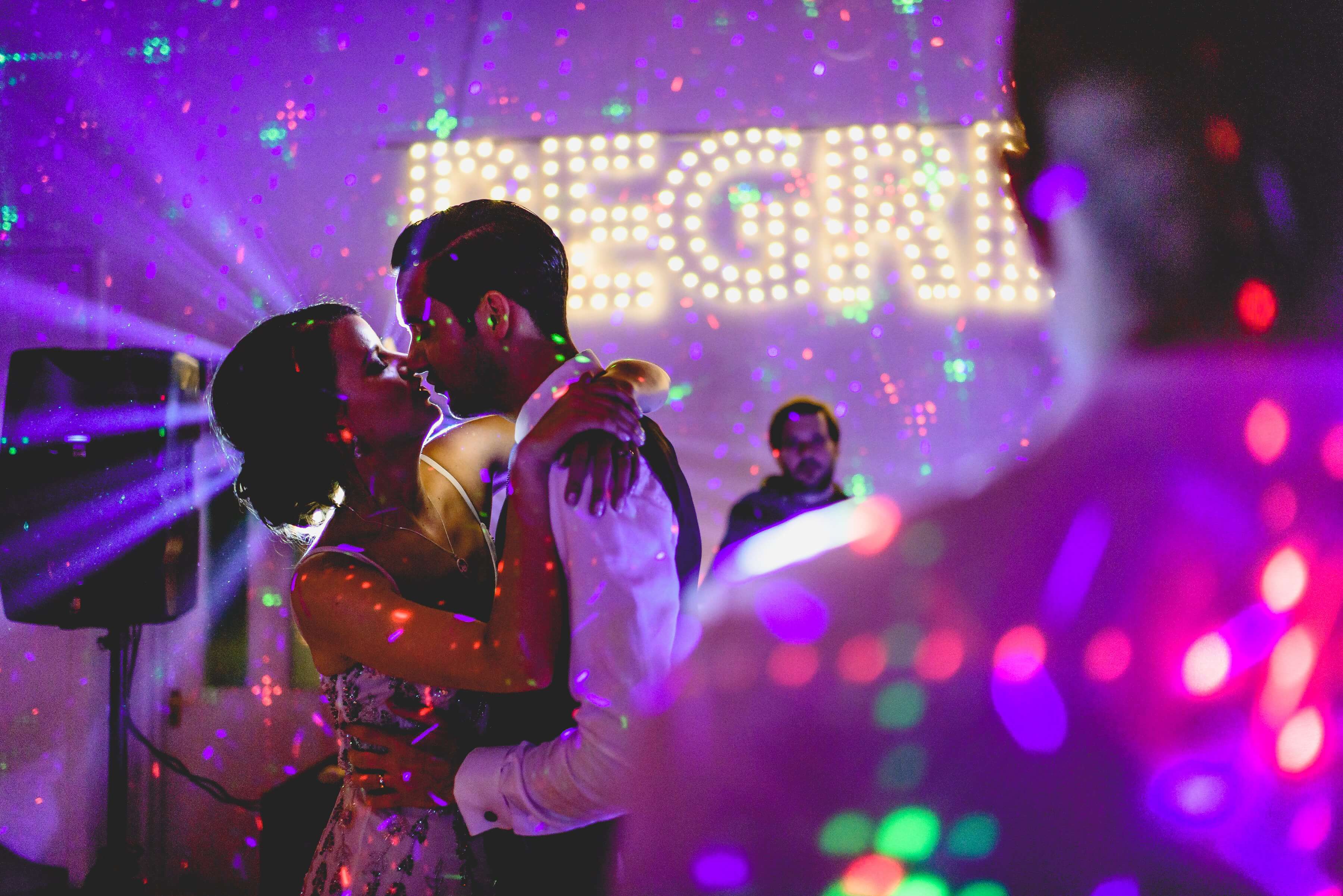 PINTEREST VERSUS REALITY
Pinterest can cause some delicate conversations for us wedding planners. Yes, the images look lovely, but are they achievable for you? Many of the images are American meaning that particular flowers or decor pieces may not be available in the UK. Secondly, many of the images you'll see are from large budget weddings. You can use these images for inspiration, but your suppliers will do just that, they will be inspired by them but then propose something achievable within your budget.
Don't get me wrong, I absolutely love Pinterest (feel free to check out my boards here, you just need to know how to use it, what it's good for and what it's limitations are.
MY TOP TIPS FOR USING PINTEREST AND NOT GETTING OVERWHELMED:
Get Pinning – Start by pinning absolutely everything you love. At this stage start off by pinning them all to one board, don't separate out into 'Cakes', 'Stationery' etc. Further down the line you can then produce separate boards when you're ready to start more in-depth decision making. See tip 2 for why I suggest this approach
Refine – Once you are done pinning, review your board. Often a key style will begin to emerge. Consider minimising your board towards that style to give you some clarity and a consistent design. If both partners have pinned, now is the time to discuss how you could design a wedding you will both love.
Individual elements – The above stages should have allowed you to discover what look and feel you both want. This should help to reduce the chance of being overwhelmed by Pinterest. From here you'll find it easier to do more specific searches for each aspect of your wedding. You can produce a board for each aspect if you wish to do so. Each time you start a board, pin everything you like then review/refine to keep your boards really clear.
Suppliers – Do share your boards with suppliers. I'd recommend you always show suppliers you overview board as it allows them to get an understanding of the overall feel you'd like for your wedding. They may then make suggestions of other ways you could achieve it, whereas if you just show, for example, a stationer a picture of the stationery you like, you are more likely to end up with a replication rather than a something more personal.
Refer back – As you go through your wedding planning do refer back to your overview board. It can help to bring you back on track if you start to get lead astray.
If you've enjoyed this post, or are feeling overwhelmed by Pinterest and need some help with designing your dream wedding please get in touch.
Image by Emmie Scott.
I'm an award-winning London and Hampshire-based wedding and event planner with more than 20 years of events experience to my name. With a passion for luxurious, stylish weddings and events, I love dreaming up exciting ways to bring ideas to life - from city chic London weddings and idyllic country house venues, to large scale celebrations bringing together guests from around the world. When the out of office is on, you'll usually find me off on an adventure to a far flung destination or recharging with friends over cake and bubbly.