An Intimate Wedding
GLEMHAM HALL, SUFFOLK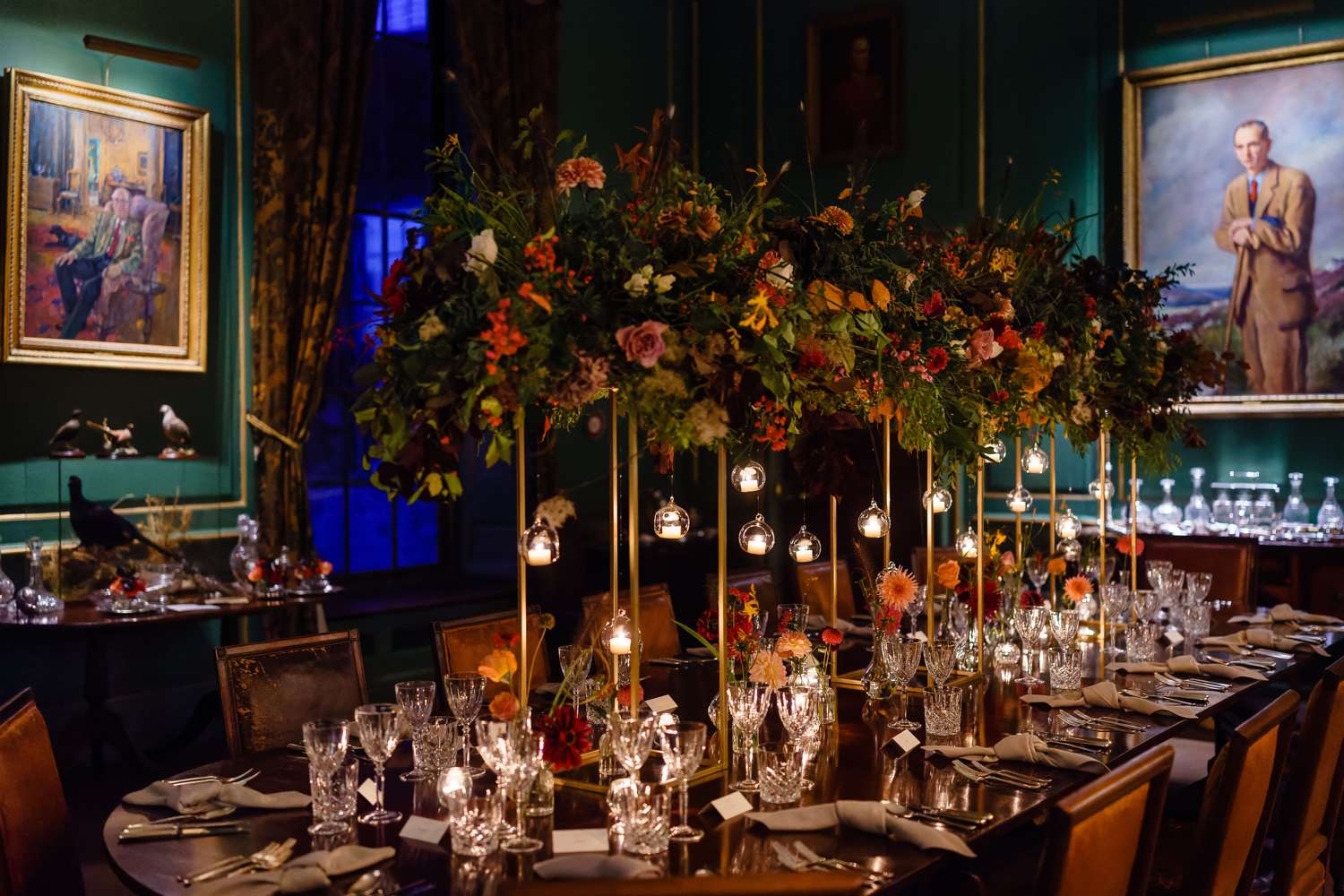 REAL WEDDING: AN INTIMATE COUNTRY HOUSE WEDDING IN SUFFOLK
Ross and Jemima contacted Caroline Sian Weddings & Events to ask if we could arrange an intimate wedding for them in just 10 weeks. Here's how we went about creating their dream day.
THE WEDDING VENUE
The couples brief was that they wanted total privacy for their day. I set off on a hunt for an exclusive hire venue for them and, within a week, I found the stunning Glemham Hall, an Elizabethan country house, set in around 300 acres of park land in Suffolk. Privacy was guaranteed.
Although the venue was more used to using their large marquee for weddings, the original house had a selection of smaller rooms which gave the day the a lovely intimate feeling. The beautiful dining room also just happened to seat their exact numbers at a single grand oval table.
THE WEDDING FLOWERS & DECOR
With the wedding in October, Jemima was keen to embrace the autumn colours and wanted plenty of candle light. She'd seen some pictures on Pinterest of some amazing ceiling floral installations and, although we couldn't quite to a hanging installation, working with Rose and Rhubarb Flowers we created a stunning solution to create a similar feeling whilst sticking within the rules of the venue.
To help to further elevate the luxe feeling of the table we added beautiful crystal glassware and muted napkins from Banqueting Hire and the table was set for a beautifully intimate celebration.
Here's what Ross and Jemima had to say about the process of working with Caroline Sian Weddings & Events to plan their intimate wedding:
"After our initial call we had no hesitations at all in booking Caroline to plan our wedding – we were impressed with her immediate understanding of our limited ideas and presentation of possible options, important as we only had 2 months in which to plan the wedding, including finding a venue!

Caroline's bedside manner is spot on. My partner and I were pretty grumpy in our initial meetings (my being sick from pregnancy and his overworking) but she dealt with us perfectly. Chatty without being overly presumptuous, considerate and helpful, meticulous, professional and diligent.

Working with Caroline was made easy due to her diligence and anticipation of our needs. She's genuine, friendly, reliable and highly competent. We'd recommend her to everyone, in fact my bridesmaid/best friend has already declared she wants Caroline as her planner so I'm hoping she gets married soon so we can meet again!!"
Ceremony Venue
Glemham Hall, Suffolk
Reception Venue
Glemham Hall, Suffolk
Photographer
James Davidson
Date
October, 2021
I'm an award-winning London and Hampshire-based wedding and event planner with more than 20 years of events experience to my name. With a passion for luxurious, stylish weddings and events, I love dreaming up exciting ways to bring ideas to life - from city chic London weddings and idyllic country house venues, to large scale celebrations bringing together guests from around the world. When the out of office is on, you'll usually find me off on an adventure to a far flung destination or recharging with friends over cake and bubbly.