HOW TO CREATE A WEDDING BUDGET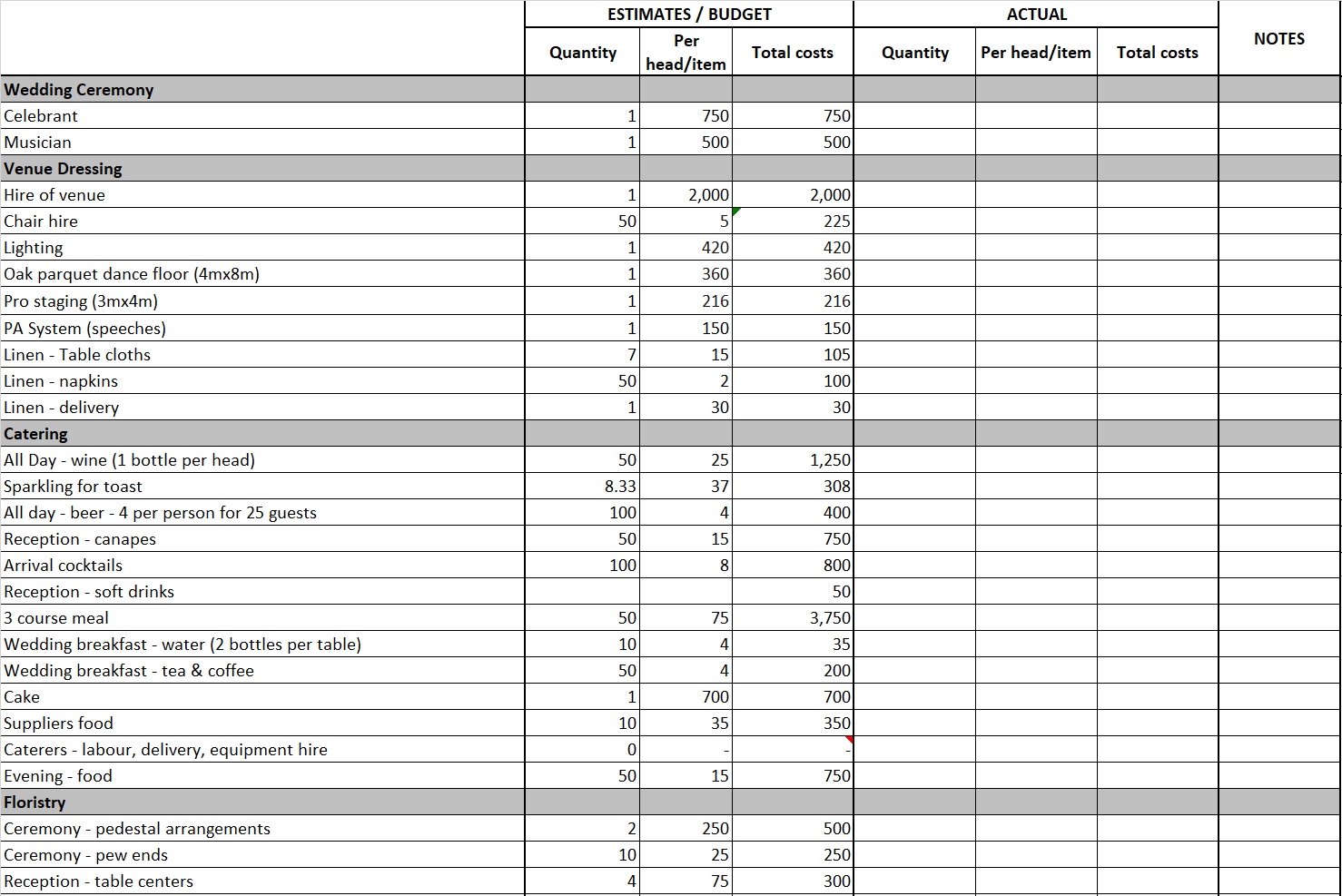 When I get an enquiry from a couple for full planning of their wedding one of the very first tasks I undertake is to create a wedding budget. I'm often surprised by how many of my partial planning and wedding day management clients haven't produced a budget and only have a rough idea of what their wedding is costing them. This comes with two problems; firstly, it means that the overall cost often spirals as they only initially consider the big things such as the venue and maybe the photographer, and secondly, it means they often haven't fully thought through their priorities, the financial implications of these and where they may have to compromise in other areas in order to achieve them. I know it might seem like a very unromantic task for such a romantic day, but I can't stress enough the importance of getting your budget down on paper or, better yet Excel.
HAVE THE AWKWARD CONVERSATIONS EARLY
If anyone is kindly contributing to your wedding then discuss this up front, including whether they are giving you a specific amount, or if they wish to cover the cost of particular aspects of your wedding. If it's the later then it can also be worth a candid conversation about the budget for these aspects. It's also worth having an honest discussion about the level of input a contributor may want in return. Do you really want Great Aunt Ethel to have the final say on your table centrepieces for example?
PRIORITISE
Once you have your total budget consider what your priorities are. Is it the venue? Fine wines? The flowers? You dress? Musicians? If you are struggling to decide on your priorities perhaps think about what you'd like you and your guests to remember from your wedding. This will also highlight the areas you are happy to compromise on and therefore you might want to consider some DIY aspects, in which case give yourself plenty of time to experiment. Book the priority suppliers first so that you know you can afford them and don't have to compromise if other areas have crept up.
DRAW UP A BUDGET AND CONSTANTLY MONITOR IT
List all the parts of your wedding (i.e. ceremony, drinks reception, wedding breakfast, evening party) along with all the various aspect such as catering, flowers, entertainment and allocate figures to each. The more detailed the better! Lots of websites now give average wedding costs which can help greatly, but do bear in mind that costs vary massively depending on location, time of the year, guest count and the quality of the supplier! Use estimates first and update it as you receive quotes. Remember, if one quote comes in higher than you expected then you may need to review the other areas and reduce the budget elsewhere.
GUEST LIST SIZE
Try to detail as many costs as possible at a per head level. That way you'll have real clarity of the costs when you consider inviting extra people. And remember, it's not just the meal cost, it's stationery and if you need an extra table it will also be extra linen and table centrepieces.
AREAS YOUR MAY GO OVER BUDGET
Don't forget the little things – remember to budget for all the little extras, think postage for invitations, gifts for bridesmaids, ushers and mothers, your guest book and wedding insurance. For example, depending on design, and based on the average wedding having 90 guests, you could be looking at a postage bill of £150-£300 for sending out your save the dates, invitations and thank you cards alone. The little things really do add up! Using a professional to help you manage your budget ensures you aren't left either overspending or having to compromise on aspects important to you

Lighting – often overlooked until the last minute, but it makes such a huge difference to the ambience. I urge you to speak to your venue or a lighting hire company early on and budget accordingly

Flowers – last minute requests that an additional family member would like a buttonhole or corsage or you may realise something previously unconsidered needs to be decorated

Last minute dress alterations

Guests you weren't expecting to accept – On the whole, people really try to attend a wedding if invited, so you're best to budget for almost all to accept.
MARQUEE WEDDINGS
Marquees really are a whole different ball game – you'll spend money on boring things you've never considered such as generators, external lighting and water pipes to name but a few. For a comprehensive budget I would recommend you get a professionals help, either in the form of a wedding planner or by using an outstanding full-service marquee supplier.
CONTINGENCY
When you first produce your budget allow a 5-10% "just in case" fund!
As you can probably tell, I love a good wedding budget and I'm a total Excel geek. I'm sure once you start you'll love it too!
If you've enjoyed this post and would like to discuss how I could help you with your celebration please get in touch.