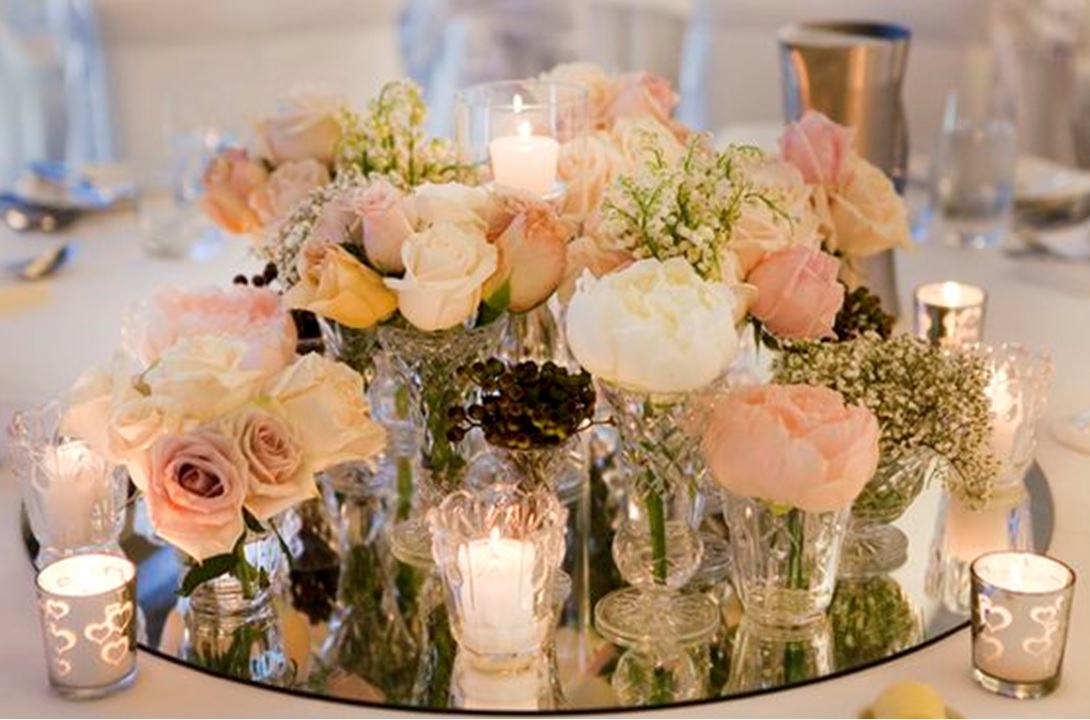 With guests spending a majority of their time at their tables, couples often place great importance on their table centrepieces. Whether you want simplistic minimalism or indulgent extravagance your wedding planner and florist will be able to help you choose the perfect centrepiece for your wedding. However, there are a few top tips to consider…
Guest Numbers & Budget
Once you've decided how many guests you're having at your wedding you will then have a better idea of how many table centrepieces you'll need. Consider that most round tables seat between 8 and 10 guests, with some venues having slightly larger tables for up to 12 guests. Rectangular and square tables will be completely venue dependant. In addition you may want different displays on your top table, maybe lower ones so as not to obstruct your view of your guests and their view of you.
Colours
Not all colour schemes are easy to carry through to flowers, especially if you are keen to use British grown and seasonal varieties. There are, however, plenty of ways around this. Consider the use of complimentary colours or alternatively you could pull your colour scheme in to the centrepieces through the use of beautiful coloured vases. Colour schemes can actually work best when everything isn't too matching so do consider using other colours to balance your look.
Size
Ideally, your centrepieces shouldn't affect visibility, either around the table, the view of the bride and groom at the top table or the area from which the speeches will be delivered. With this in mind you're best not to have a wide abundance of flowers at around head height of the guests when seated. In terms of composition, groups of 1, 3 or 5 or the most aesthetically pleasing.
Food Service Style
If you are going for family style platters, then do think about the impact this will have on your centrepieces. Once you have all the glassware, wine, water, place cards and centrepieces on the table you actually have very little room. You will need to ask your caterer about the size of the platters to ensure you have space and you may need to design your centrepieces accordingly. This is particularly true if you want rectangular tables with long floral/greenery garlands/runners which are particularly popular right now. Family style platters aren't a comfortable option with these.
Alternatives to Flowers
You don't have to have floral centrepieces. Let your imagination run wild and consider other items which might reflect your style or passions.
Lighting
Table pin-spots will really bring your centrepieces to life. They simplify the room by drawing the guests eyes to the centrepieces and really do look stunning. If your venue has the option for pin-spots give serious consideration to using them. I have written more about venue lighting in this blog post.
Candles
A top tip here, air conditioning vents makes candles burn at different rates. If you want to ensure all your candles are still burning by the end of the evening either source long life candles or consider LED candles, which, if you source good quality ones, once placed in a holder are not necessarily noticeably different to the real thing.
Check With Your Venue
Check if your venue has any restrictions that may affect your design, such as not allowing open flames or breakable glass. Also, if you want particularly extravagant centrepieces, think hanging floral chandeliers for example, your florist will need plenty of time to set these up. Check what time they can access the venue to ensure your design is achievable in the time available.
If you've enjoyed this post and would like to discuss how a wedding planner could help you make your big day even more perfect, please do get in touch.