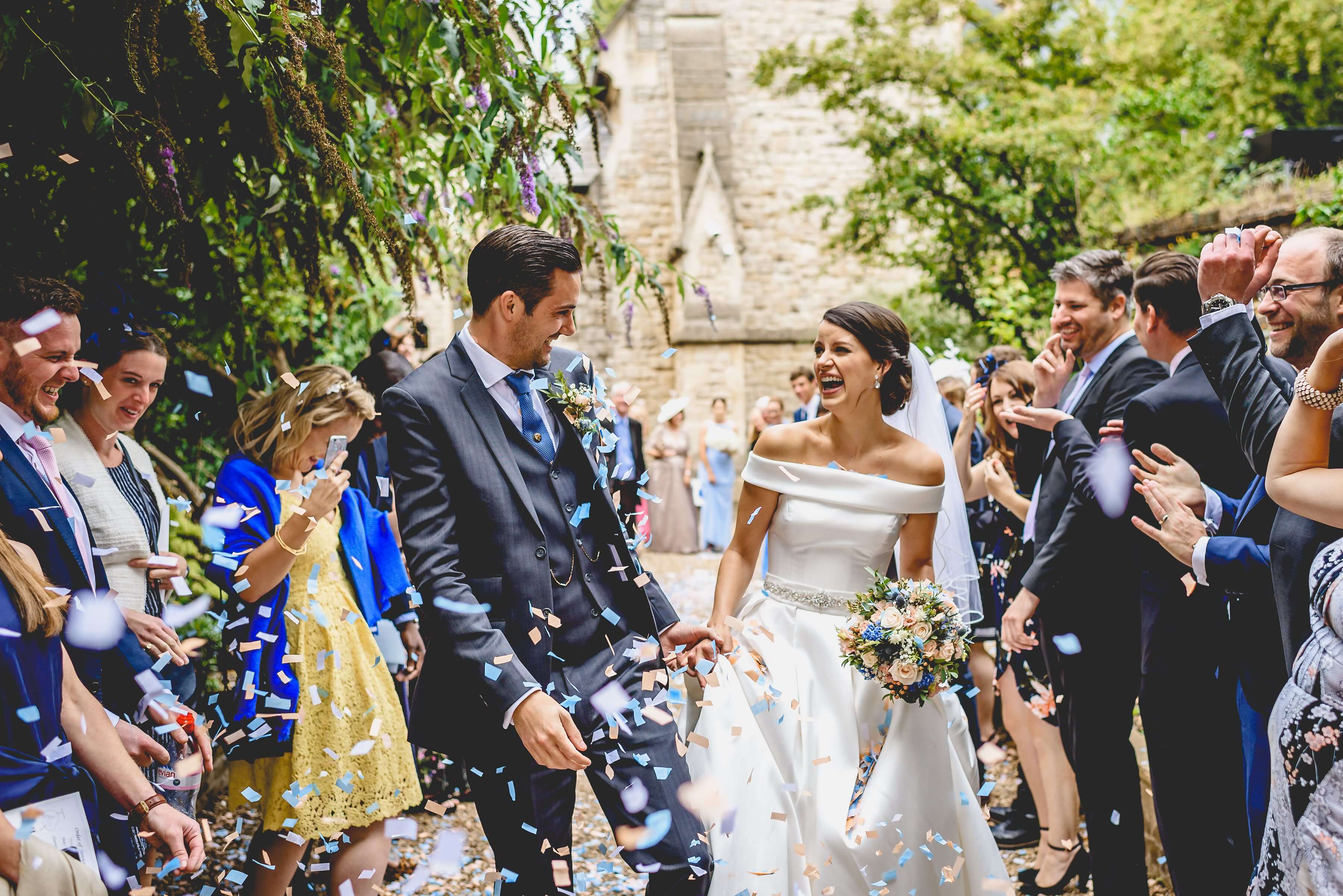 I'm so excited to be able to share this wedding with you! I've been talking about it since the big day itself in August, as I expect the guests have been. It's great to be able to show you all about this real London wedding in The Amadeus Centre wedding which so perfectly reflected Stacy and Alastair's unique love. Enjoy!
I first fell in love with Stacy when I heard the story of how they met. Stacy was on a blind date with another chap. Bored out of her mind, she noticed a tall, dark, handsome stranger at the bar. So, whilst nodding politely at her date, she kept an eye on her ideal man and, as he made a move to leave, she made a dash and slipped him her number. I love a girl who knows what she wants!
Before getting in to the pictures I should start by putting a little context around Stacy and Alastair's personalities… Her parents often referred to Stacy, very endearingly, as their "alien child" and living on "Planet Stacy". She's an American actress and I must say, an absolute delight! Alastair has a city job and appears to be much more of a typical Londoner, but scratch (very lightly!) at the surface and you soon realise he is just as wonderfully zany as Stacy. The quote on their orders of service sums them up well:
"We're all a little weird. And life is a little weird. And when we find someone whose
weirdness is compatible with ours, we join up with them and fall into mutually
satisfying weirdness—and call it love"
Robert Fulghum
I'd like to thank the hugely talented Emmie Scott for allowing me to use her photographs on this blog. Emmie captured Stacy and Alastair's personality so absolutely perfectly and was a delight to work with.
So, lets kick off with the story of the big day. Stacy got ready at The Colonnade Hotel, in London's Little Venice, with her gorgeous mum, bridesmaids and flower girl. Her hair and make-up were done by Emma Dallimorewhilst her stunning Ronald Joyce dress was from JS Couture, London. Then she jumped on a traditional London double-decker bus from Routemaster Hire for the journey to the chapel.
Meanwhile, Alastair and his groomsmen got ready and headed to the pub for brunch and quick pint to settle the nerves.
The Rosslyn Hill Unitarian Chapel in Hampstead did an absolutely amazing job of enabling Stacy and Alastair to have a ceremony that embraced their personalities. If you aren't sure what Unitarianism is, it's essentially an open-minded approach to faith that encourages individual freedom, equality for all and rational thought. It's open to insights from all faiths, science, the arts, the natural world and everyday living. This was perfect for Stacy and Alastair, who, wanted a unique ceremony with, amongst other things, them playing rock, paper, scissors to decide who should say their vows first. After we had reassured the registrar that the couple did indeed take their vows very seriously she allowed all of the ceremony to go ahead, exactly as per their wishes. Some of the other slightly less traditional aspects included a very funny but pertinent poem by their friends dressed in animal onesies and a song specially written for them, sang during the register signing. The cute flower girl and page boy added the all-important "ahhhhh" factor.
A drinks reception was held outside the chapel, with guests served gin cocktails from The Travelling Gin Co. to keep them entertained while the couple had a few photographs with their wedding party.
Then it was all back on to the London buses for the journey over to the Amadeus Centre in London's Little Venice.
Formerly a 19th century Welsh Presbyterian Chapel, the Amadeus was sensitively renovated in 1989 to become an events and wedding venue.  In keeping with the original purpose of the building all of its profits go to Subud®, an international charitable organisation committed to doing good works in the world, affiliated with the United Nations.
For Stacy and Alastair's wedding we utilised both its impressive Upper Hall for the wedding breakfast and evening party and the more intimate Lower Hall (originally the Crypt) for the drinks reception.
To transform the venue, we worked with Redcat Lighting who know the Amadeus really well. Stacy handmade all the table centrepieces and provided plenty of signage and other accessories for us to dress the venue. And yes, they did have "REGRET" in light-up letters behind the top table and a table called "Wankers" – I had to double check that one wasn't a typo!
We worked with the very wonderful Food Events who provided all the catering and bar services.
During the planning, I would regularly get emails and calls from Stacy and Alastair informing me of surprises they had for each other. It was always interesting when I was sharing my timeline for the day as I would often have to send different information to the different parties so that I didn't give the game away! Surprises included Stacy's various music choices for the ceremony (which included "The Final Countdown" to be played just before her entrance and Green Day's "American Idiot" for their recessional) and an amazing video she created for Alastair to be played during her speech. The look of surprise and delight when his favourite Olly Smith (the TV presenter and wine expert) congratulated him on screen was fantastic!
The evening celebrations kicked off with a whiskey bar and American girl guide cookies while the bride and groom cut the cake with a sword passed down through the grooms family. The wedding cake was provided by Stacy's friend, Tori, and the gorgeous cheese cake was from the Teddington Cheese Company, decorated by Food Events.
Then guests were left to dance the night away (and throw some rather special moves!) to tunes by Tristan of 
Mint DJs
.
The minister kept referring to Stacy and Alastair as a "radiant couple". Emmie took so many phenomenal photographs of the couple that encapsulated their personalities so well, but here is a selection of just a couple of my favourites.
As you can probably tell, I rather enjoyed working with Stacy, Alastair and their fantastic suppliers to plan their real London wedding in The Amadeus Centre. I welled up slightly when Stacy's father came to find me to thank me for the support I'd given Stacy. Making peoples journeys even more special really is the reason I'm a wedding planner. I was delighted when Stacy offered me a testimonial for my website:
"I must have sung Caroline's praises to my friends and family a hundred times in the lead-up to our wedding, and yet she still exceeded expectations on the day!
At first, I wasn't sure if we needed an on-the-day coordinator, but how wrong I was! Once I met with Caroline, I knew she was someone that I could entrust with the biggest day of our lives. How nice it was to just sit back and enjoy watching the day unfold, knowing that Caroline had every single detail covered and we had nothing to worry about.
Honestly, bringing Caroline on board was the best decision I made for my wedding, second only to my choice of husband! Every step of the way, Caroline was professional, efficient, receptive and friendly. She took all of my many (and believe me, there were many!) requests and executed them all perfectly. She seemed to be everywhere at once on the day, ensuring that our suppliers worked together like a well-oiled machine and always appearing the second we needed her, and yet at the same time she was a ninja at blending into the background (I'm sure most of our guests still don't realize we had a coordinator!). She ensured that our day looked and ran perfectly, and we genuinely can't thank her enough!"
Our suppliers for this very special wedding were:
Wedding planner – Caroline Sian Weddings & Events
Ceremony venue – Rosslyn Hill Unitarian Chapel
Reception venue – Amadeus Centre
Caterers – Food Events
Photographer – Emmie Scott Photography
Reception venue lighting – Redcat Lighting
Transport – Routemaster Hire
Brides accommodation – The Colonnade Hotel
Brides dress – Ronald Joyce at JS Couture, London
Hair and make-up artist: Emma Dallimore
Gin bike – The Travelling Gin Co.
DJ – Mint DJs
If you've enjoyed this post and would like to discuss how a wedding planner can help you with your celebration, please get in touch.