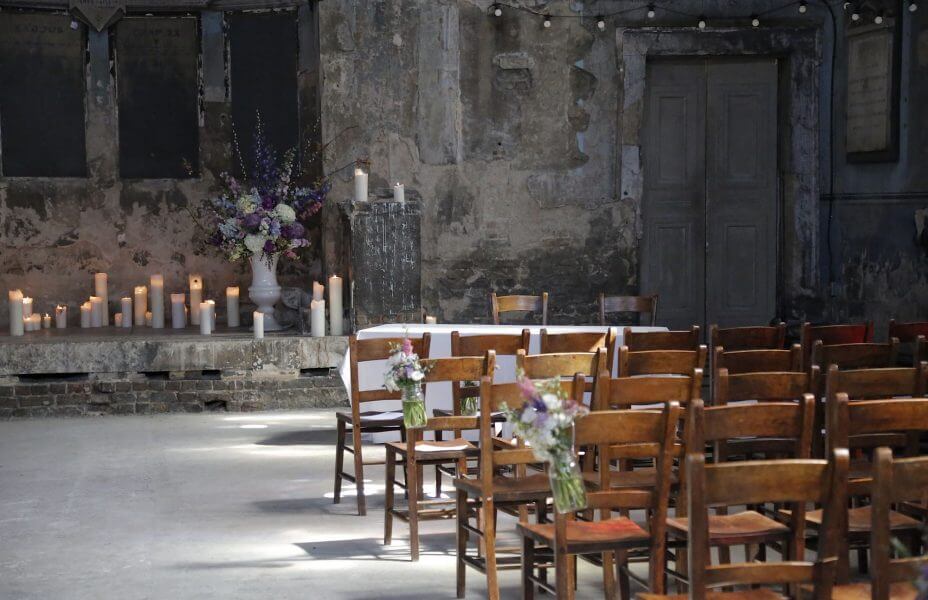 If you're lucky enough to be one of those couples planning on a London wedding there's no denying that you're spoilt for choice. The bustling city is filled with elegant churches, towering town houses and stunning rooftop gardens.
But getting married in a church or chapel doesn't necessarily appeal to everyone. For those of you looking to shirk tradition and tie the knot somewhere a little different, here's a guide to seven unique London wedding venues.
If you're looking for a venue that's a bit out there – but haven't found the perfect one here – head on over to The Wedding Secret for more quirky London wedding venues or give me a call and we can discuss what you're looking for.
I know I promised something different to a traditional chapel wedding, but the Asylum chapel is far from typical.Perfect for anyone with a love of history, parts of the chapel's gothic-style interior stretch back to the Victorian times. Incredibly, despite having been bombed in the Second World War, the chapel retains its original stained glass windows and funerary stone monuments.Despite its morbid name the incredible features of the chapel are easily transformed into a stunning historical venue for your wedding ceremony. Flowers and fairy lights can be used to enhance the room's dramatic carved stonework and transform the chapel into a unique fairy-tale location.
From the very tip of its skyline right down to its cobbled streets, it's obvious that London has a certain splendour.  What better way to celebrate a London wedding than with the Project B café and bar?
This Grade II listed building is ideal for a unique wedding reception or meal. The Croydon based venue boasts three floors of urban style décor and modern featured art. The venue's mix of sharp, geometric patterns, wood panelled flooring and even its decorative phone box give it an industrial charm.
Project B is a great place to give your reception a trendy, urban look and create quirky and unforgettable memories of your evening.
A former bank located right in the heart of London, Gibson Hall exemplifies old school glamour. The perfect mix between a town and country wedding the hall offer a private lawn for private outdoor weddings, a garden room for small ceremonies and a vast reception hall.
The highlight of this venue is most certainly its reception room, with its three glass domed skylights and classic bag crystal chandeliers. The incredible black marble pillars and gold detailing around the room are perfect for many colour schemes and the room itself can fit up to 450 guests for the evening.
Plus, the venue has an incredible history. Now a Grade I building, Gibson Hall began its life as one in a collection of three banks that would eventually become the national Westminster bank. The building was known for its intricate detailing and stunning carved panels and grew so famous for its incredible architecture that it eventually became known by the designer's name; Gibson.
Even if it wasn't a stunningly beautiful venue, the fact that the Tudor barn is the only one of its kind in London certainly earns it a place on our list.
The 16th Century barn can host up to 200 guests and features around 13 acres of incredible parkland. In addition to being unique in type, the Tudor Barn also manages to bring a rustic charm to the London area – giving you all the benefits of a countryside venue, without having to worry about hours of travel.
The building's low ceiling, wooden beams and finely thatched roof give it a gentle romanticism and a quaint historical feel.
Once an abandoned hospital, The Hospital Club gained a new lease on life when it was transformed into an exclusive members club. Now a creative hub, each of the club's luxury rooms showcase work from different artists, who give the room its own unique spin.
The definite highlight of the venue is its stunning Forest Room. Your first impression of the Forest Room is of a gentle golden glow, as you take in the room's intricately painted walls. Covered in images of tangled trees, the room gives the overall impression of standing in British woodlands on a sunny afternoon.
The room provides the perfect backdrop for your wedding photos and is a great talking point for your guests.
For those of you who want to get married outdoors (and are brave enough to risk the British weather), Chelsea Physic Garden offers a great location, in the very heart of London, for all your nature loving needs.
Not only beautiful, the venue is also part of an expansive cultural history. Chelsea Physic Garden is London's oldest botanical garden, also laying claim to the world's oldest rock garden – comprised of fused bricks, stones from the Tower of London and imported Icelandic lava. With a unique collection of 5,000 edible or medicinal plants the gardens are a quirky alternative to a typical lawn wedding.
The garden offers the option of a marquee and you can either hire the garden exclusively for your party, or book your favourite area for an intimate family affair.
This deluxe and dramatic venue in central London is great for any couple looking to make a splash. Dressed in sumptuous reds and golds and filled with velvet curtains and plush seating, this venue is hidden away beneath London's streets. Inspired by Turkish baths and decorated with a Victorian take on Arabic décor the Victorian Bathhouse exemplifies extravagance.
Keeping with the theme, the venues food and drink menus are inspired by classic Victorian tastes and, with both a cocktail bar and drinks' den, your wedding certainly won't run dry! The bathhouse also offers an ice bath filled with booze, a decanter booth and a butler bell, keeping your guests well looked after.
We hope this has helped you to kick off your wedding venue search, but remember these are just a few of the unique wedding venues London has to offer. A wedding planner can help you find your dream venue. If you would like to discuss how Caroline Sian Weddings  & Events might help you please get in touch.